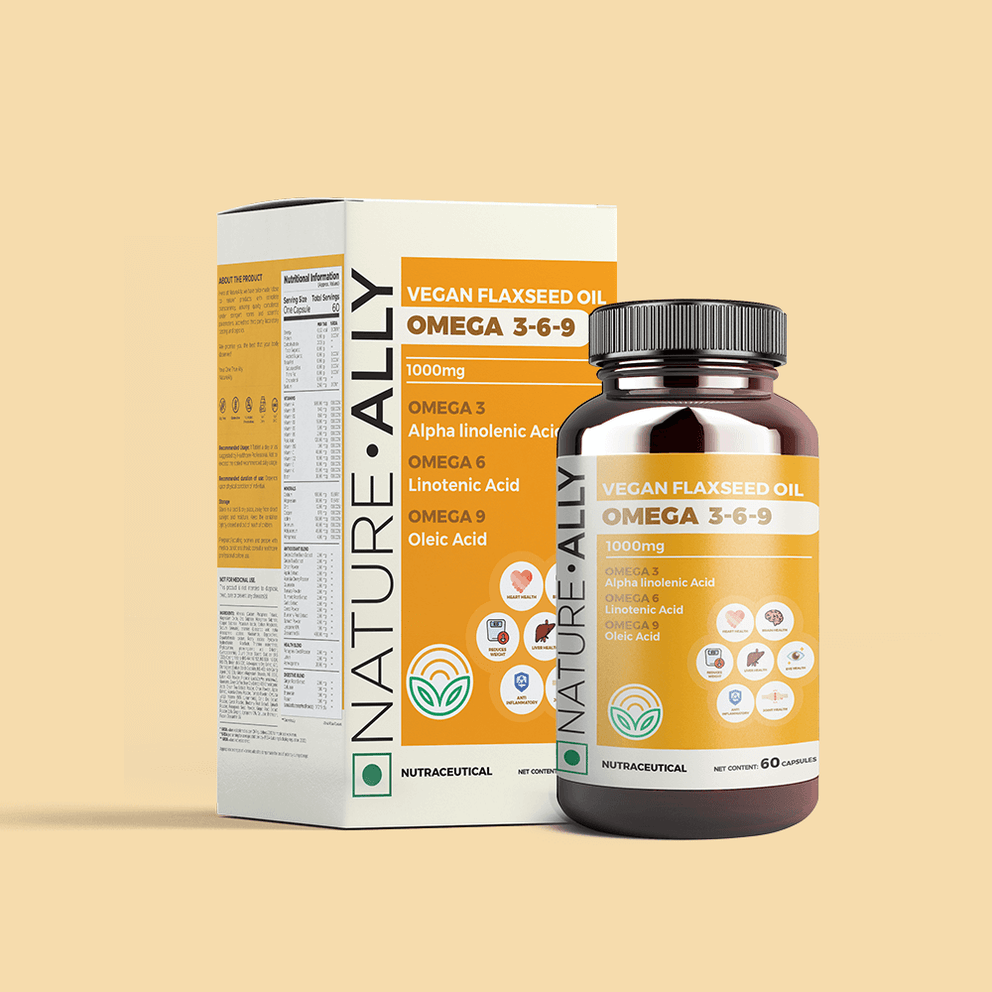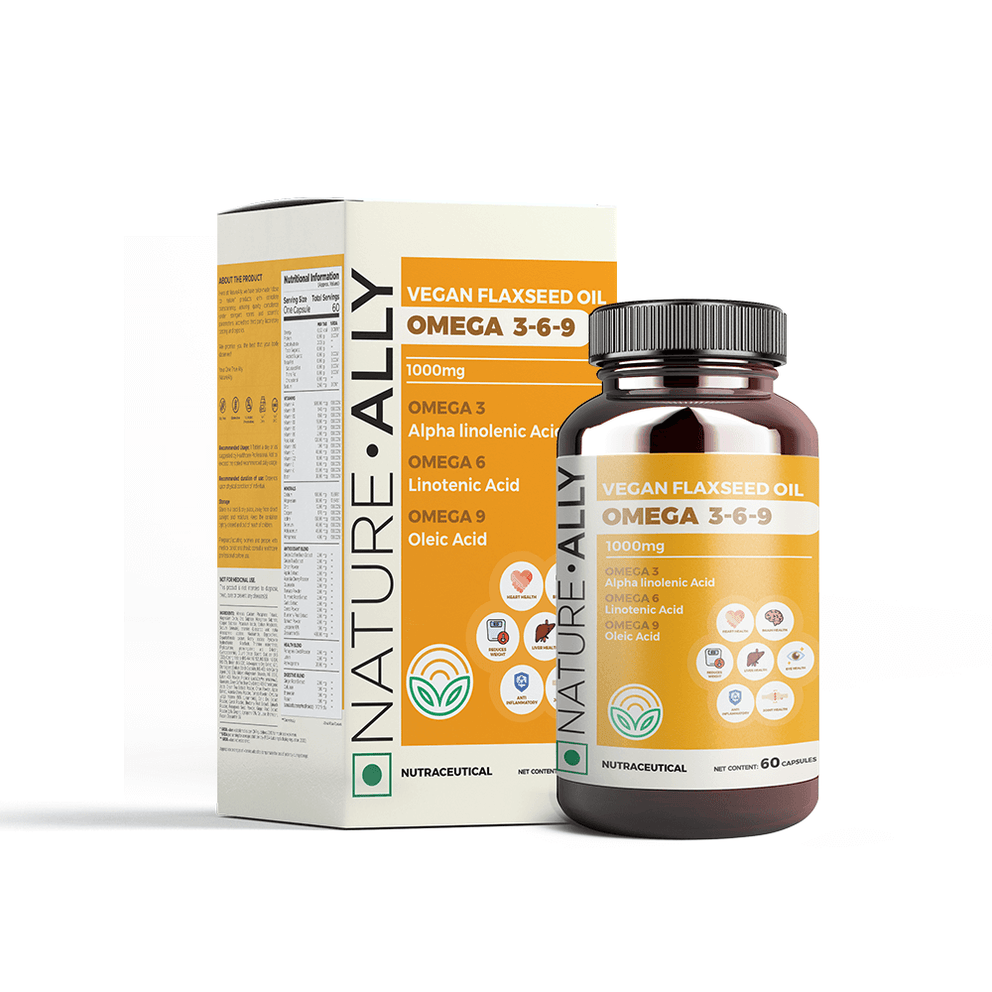 NatureAlly OmegaBoost : Vegan Plant-Based Omega 3-6-9 with 1000mg Flaxseed Oil
Rs. 999.00
Discover the ultimate plant-powered nutrition with OmegaBoost, NatureAlly's premium Vegan Plant-Based Omega 3-6-9 supplement. Harnessing the potent benefits of flaxseed oil, this meticulously crafted formula is designed to optimize your well-being and promote a healthier lifestyle. OmegaBoost delivers a comprehensive blend of essential fatty acids in a convenient, easy-to-swallow capsule. Packed with 1000mg of pure flaxseed oil, it's a powerhouse of vegan-friendly omega goodness that your body craves. Unlock the remarkable benefits of OmegaBoost and experience the transformative effects on your overall health. Boost your brain function, support a healthy heart, and nourish your body from within with this exceptional supplement. Choose Nature Ally's OmegaBoost and embrace the natural path to wellness. Elevate your health, empower your lifestyle, and experience the power of vegan plant-based nutrition. Order now and discover the extraordinary benefits of OmegaBoost today!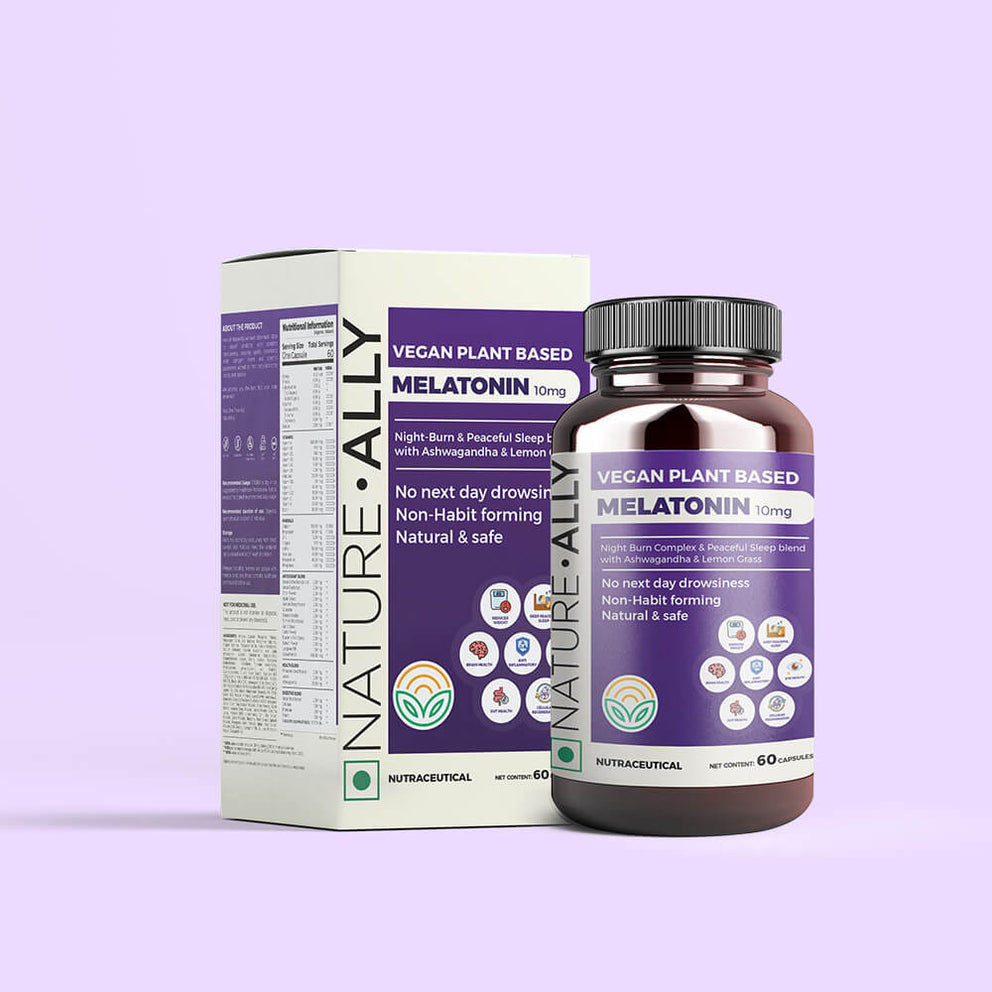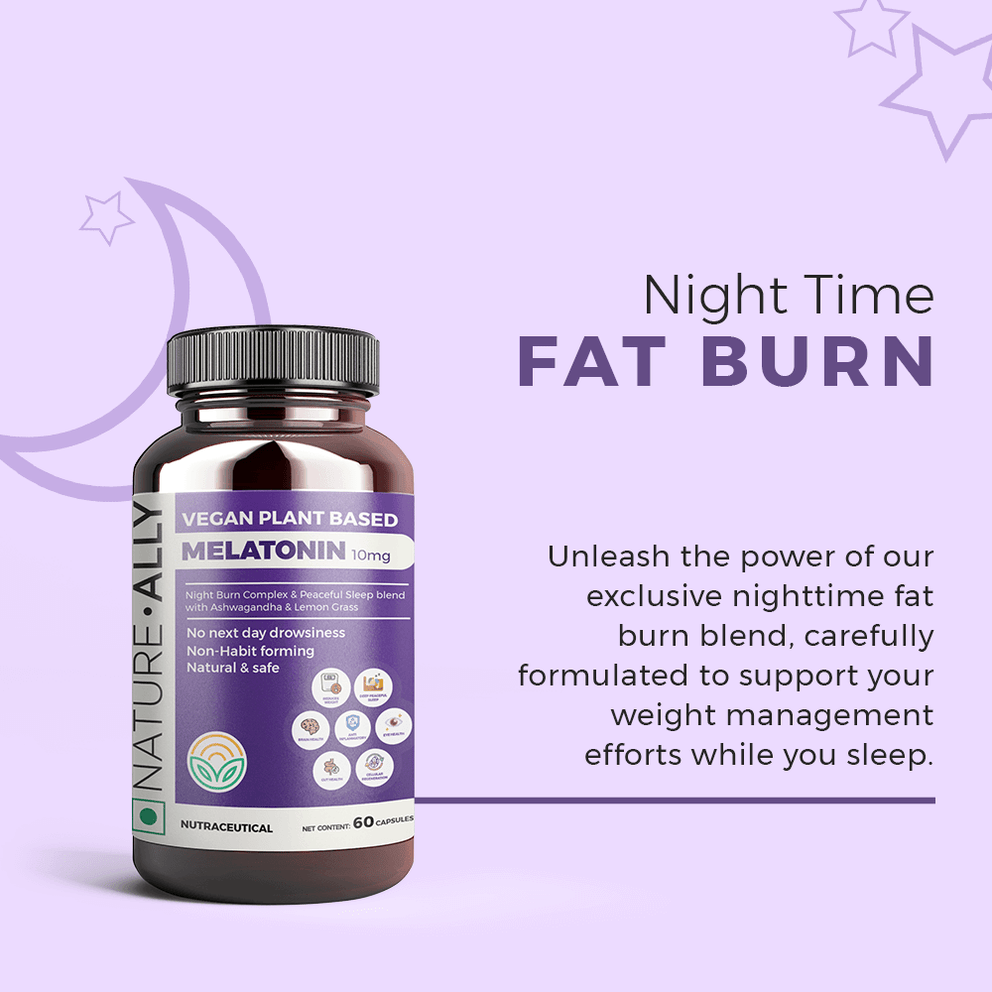 Sleep | Weight Management | Longevity
NatureAlly Melatonin 10 mg : Advanced Vegan Plant - Based Sleep Aid with Nighttime Fat Burn
Rs. 999.00
Experience the ultimate restorative sleep with Nature Ally's DreamEase, the premium vegan plant-based melatonin supplement. Crafted with precision and backed by scientific research, this advanced formula combines the power of melatonin with a unique blend of nighttime fat burn and calming botanicals like ashwagandha and passionflower. Achieve deep, rejuvenating sleep while simultaneously supporting your weight management goals. Our carefully selected ingredients work synergistically to promote a peaceful and uninterrupted sleep, allowing your body to recover and recharge. Wake up feeling refreshed, revitalized, and ready to conquer the day!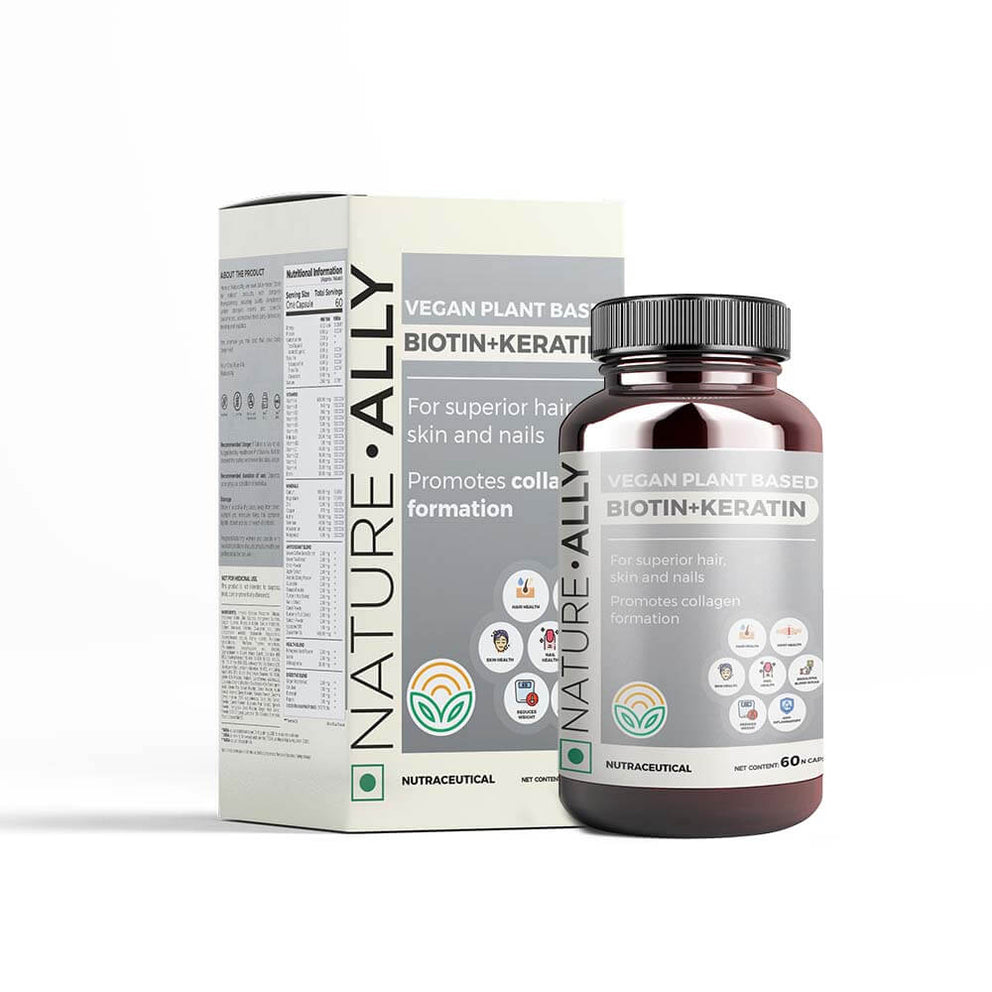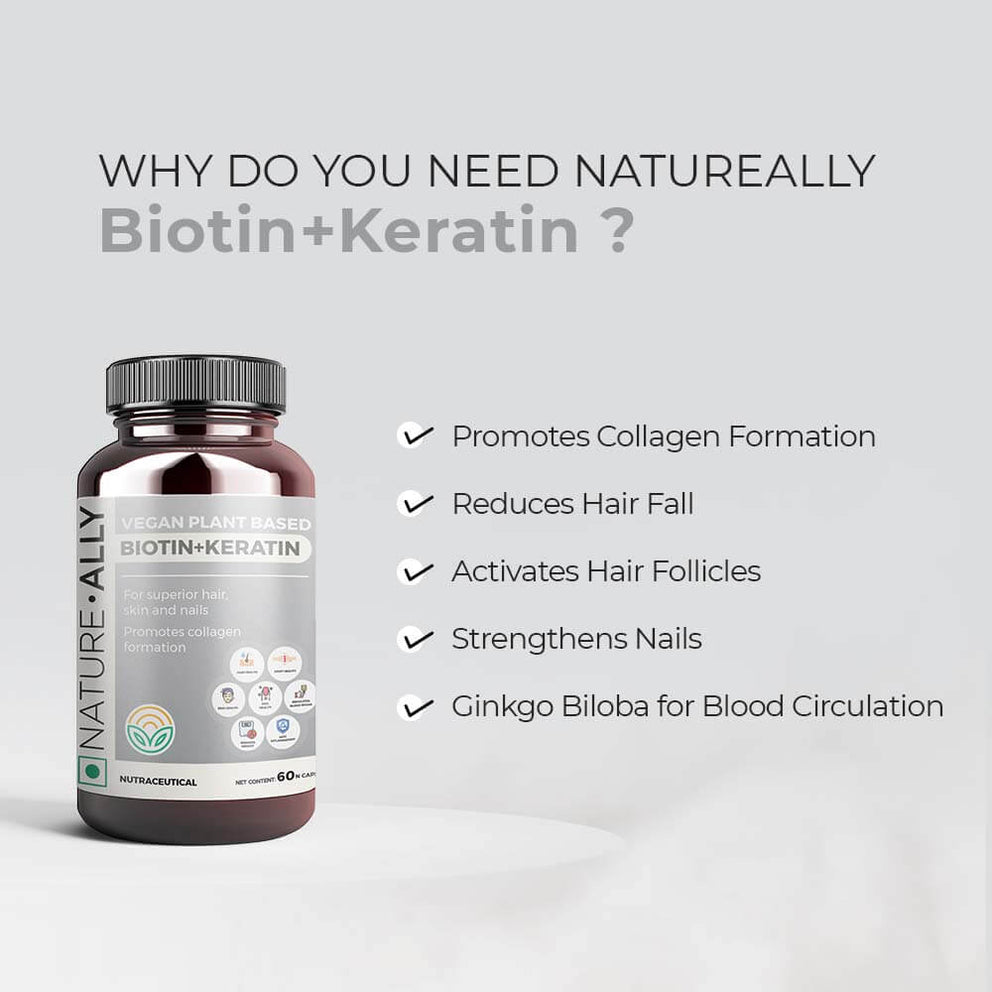 NatureAlly Biotin + Keratin with Ginkgo Biloba - Vegan Plant-Based formulation that promotes Hair and Nail Health
Rs. 999.00
Experience the transformative power of NatureAlly's Vegan Plant-Based Biotin + Keratin with Ginkgo Biloba, Vitamin A, B1, Zinc, and Folic Acid. Our advanced formula is carefully crafted to enhance the health and beauty of your hair and nails. With the perfect blend of natural ingredients, this supplement promotes collagen formation, helps reduce hair fall, and activates hair follicles for stronger, more vibrant hair and nails. Unlock the potential of your hair and nails with the nourishing benefits of vegan biotin and keratin. Biotin, a key component in our formula, supports the growth and maintenance of healthy hair and nails. Combined with the power of keratin, known for its ability to strengthen hair and nails, our supplement provides a comprehensive solution for your beauty needs.